The four seasons hotel anguilla is a resort paradise nestled in the white sands of the Caribbean
Tevin
Trinity
2020-05-29 10:49:51
  What could be better than the beauty of the Caribbean and the luxury of an island experience?
  The Caribbean has always been to one of the travelers longing resorts in the world.And anguilla in the leeward islands of the north, is formed by volcanic debris coral island, so on the winding coastline,it is not difficult to see the freedom of coral growth. In addition, the long white beach,quiet bay also adds a lot of charm for it.
  Last year, four seasons,the world's leading luxury hotel Group,and Starwood Capital,a private property investment company,announced that the Viceroy Anguilla resort would be taken over by four seasons and owned by a Starwood foundation.Located on the northwest coast of anguilla, the four seasons resort takes in 975 meters of pristine beaches and stunning views of the Caribbean sea.
  The Four Seasons group,which has been associated with the Caribbean for 26 years,has operated the Four Seasons ResortNevis, West Indies,resort resort in the Indian archipelago since 1990.The four seasons resort and private residences anguilla will be the second four seasons brand hotel in the Caribbean.As j.Allen Smith,President and chief executive of four seasons hotels,put it: "this is a unique opportunity for us to expand our footprint in the Caribbean and offer luxury travelers a four-season experience in a top-notch island retreat.

  The hotel has a total of 166 guest rooms, including exclusive vacation rooms,private residences with complete property rights,villas with a total of 465 square meters and vacation apartments that can be rented.Most of the rooms and private villas can be sold or rented, which is one of the features of the hotel.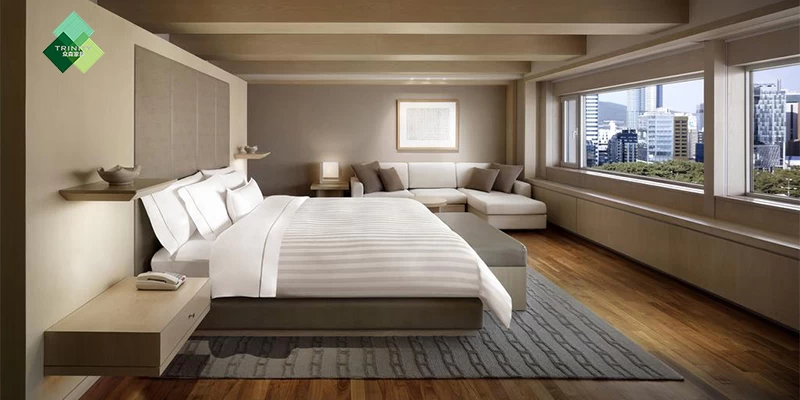 Among them,private villa no.4 can be described as extremely luxurious,with a total area of 880 square meters and five bedrooms,all modern and embellished with custom Kelly Wearstler furniture.

  Even in the extra-large room,you can stand on the balcony to get close contact with the beach and enjoy the sea.Other amenities include outdoor showers,private beach access, private infinity pools and outdoor terraces overlooking secluded Barnes bay beach.

  The owners of the hotel can enjoy all the hotel's infrastructure,including three swimming pools,a children's club, a luxury spa,several bars and restaurants.Prospective owners can also choose to put their homes in the hotel's"rental pool"and make a profit by leasing.

  Foshan zhongsen furniture co.,LTD. has been focusing on hotel customized furniture for more than ten years,among which Four Season hotel has the shadow of zhongsen furniture,which is also one of the hotel products we show.